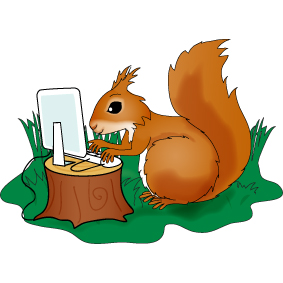 Home
Welcome to the new Save our Squirrels website - we hope to make this site the main focus of information and advice for all things relating to red squirrels in England.
If you click on the links at the side of the page, you can find information about our practical conservation work, working with landowners in the South Western areas in improving habitat for red squirrels in the North of England and Cornwall - and some advice for you if you have red squirrels in your garden and want to keep them! We also have a whole section dedicated to the work that we do educating the general public, schools, and other organisations about the red squirrel.
Doing Your Bit
For those wondering what you can do to help and support the red squirrel population in the UK, this website is a great start. Finding out more about this animal, and some of the challenges that they face, is a vital first step. Going forwards we would recommend you turn your attention to your own domestic habits and activities. Supporting squirrels (and countless other animals) starts by thinking carefull about how you handle your waste disposal and recycling debris.